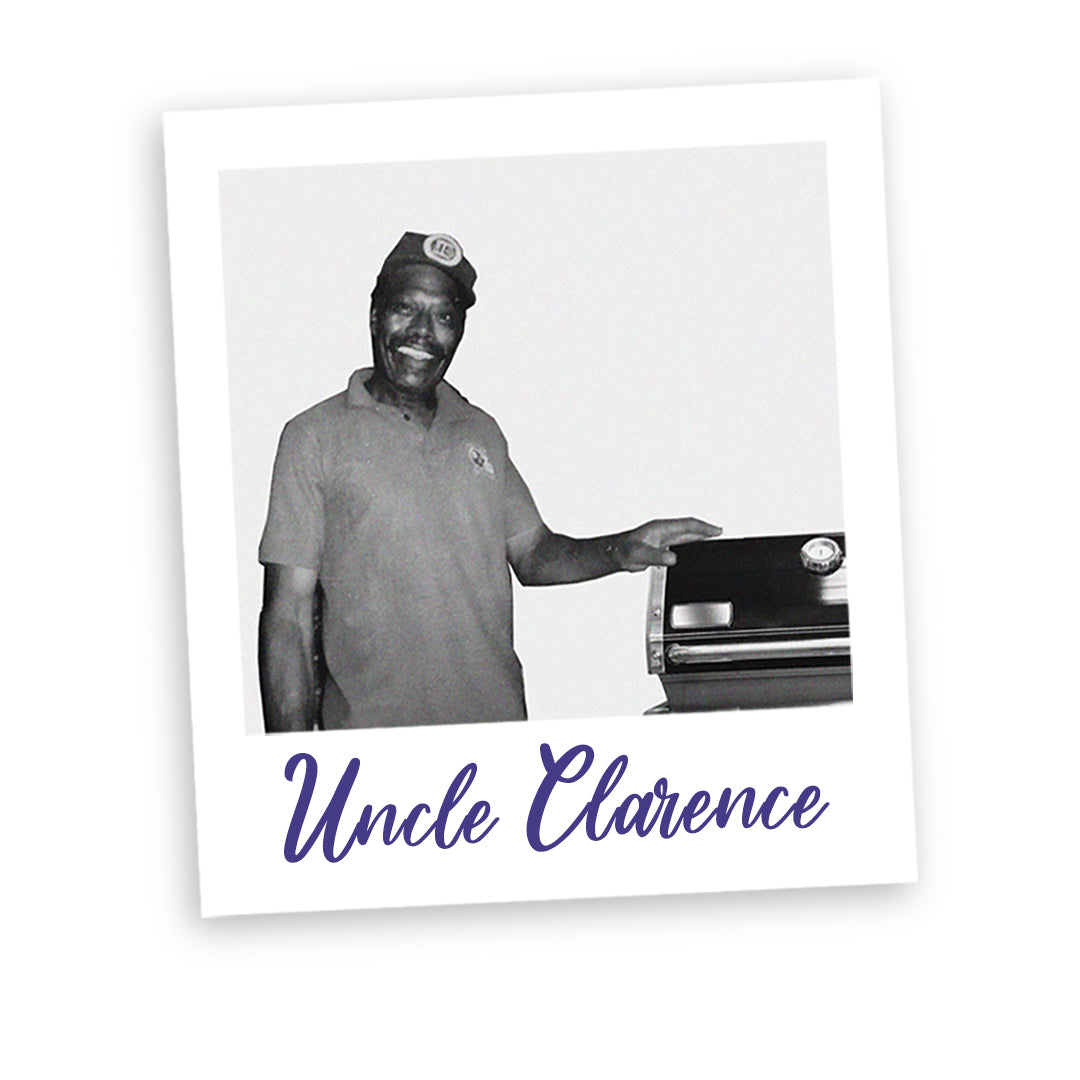 Uncle Clarence BBQ is all about family, tradition, and great quality food. Our brand is named after Clarence Foster Mitchell, a true grill master and father of our founder, Clarence C. Mitchell. Our purpose is to share Clarence's recipes and love for family, music, and barbecue with the world. Uncle Clarence BBQ is more than just a brand, it's a lifestyle, bringing people together around the grill to create lasting memories. We believe that barbecue is an art form, which is why we're committed to delivering authentic experiences to our customers.
Our story began when Clarence decided to honor his father's barbecue legacy by creating a brand to bring his unique flavor blends to people everywhere. Today, Uncle Clarence BBQ is a family affair. Clarence C. Mitchell oversees the brand's operations, and his father's legacy lives on through every bottle of seasoning, condiment, and sauce that carries the Uncle Clarence BBQ name.
Our mission is simple
Our mission is simple: creating a unique and memorable barbecue experience that brings people together and celebrates the best of family, music, and food. Our commitment to quality, authenticity, and innovation is unwavering. We use only the highest quality, 100% American-made. Our spices are low sodium, gluten-free, Kosher, and vegan. Our goal is to be a brand that is not just about barbecue but bringing people together and celebrating life's simple pleasures. And we believe that good food, good music, and good people are the keys to a life well-lived.
At Uncle Clarence BBQ, we take pride in being a brand that stands for excellence. We combine our commitment to traditional cooking techniques with a modern twist that reflects the evolving tastes and preferences of our customers. We believe in giving back to the community, promoting sustainability, and supporting charities aligned with our values.
OUR VALUES
Our values are the backbone of our brand. We believe that our commitment to tradition, innovation, quality, community, and sustainability is what makes us stand out from our competition and creates a barbecue experience that our customers can trust and depend on.

First and foremost, we honor our family's barbecue traditions through the use of the highest quality ingredients and traditional cooking techniques. Our commitment to preserving classic flavors and techniques is a testament to our respect for the roots of American barbecue.

At the same time, we believe in the power of innovation and are always looking to push the limitations of conventional barbecue. We incorporate new ingredients and create new cooking techniques to give our customers fresh and unique flavor experiences.

Quality is at the heart of everything we do, and that is why every one of our products is made in the USA. We are also committed to being gluten-free and vegan, so you can trust the quality and authenticity of every product we offer.

Furthermore Uncle Clarence BBQ is more than just a brand – it's a community, built around the joys of barbecue. We believe that our products bring people together to share stories, create lasting memories, and build meaningful connections.

Here at Uncle Clarence BBQ we are committed to sustainability and protecting the planet for future generations, by working with suppliers who share our environmental values while using sustainable packaging materials.

At Uncle Clarence BBQ, we are proud of the values we stand for and are excited to share our heritage, innovation, quality, community, and sustainability with you. Experience the best of what barbecue has to offer and become a part of the Uncle Clarence BBQ family today!