Product Blog
Product Blog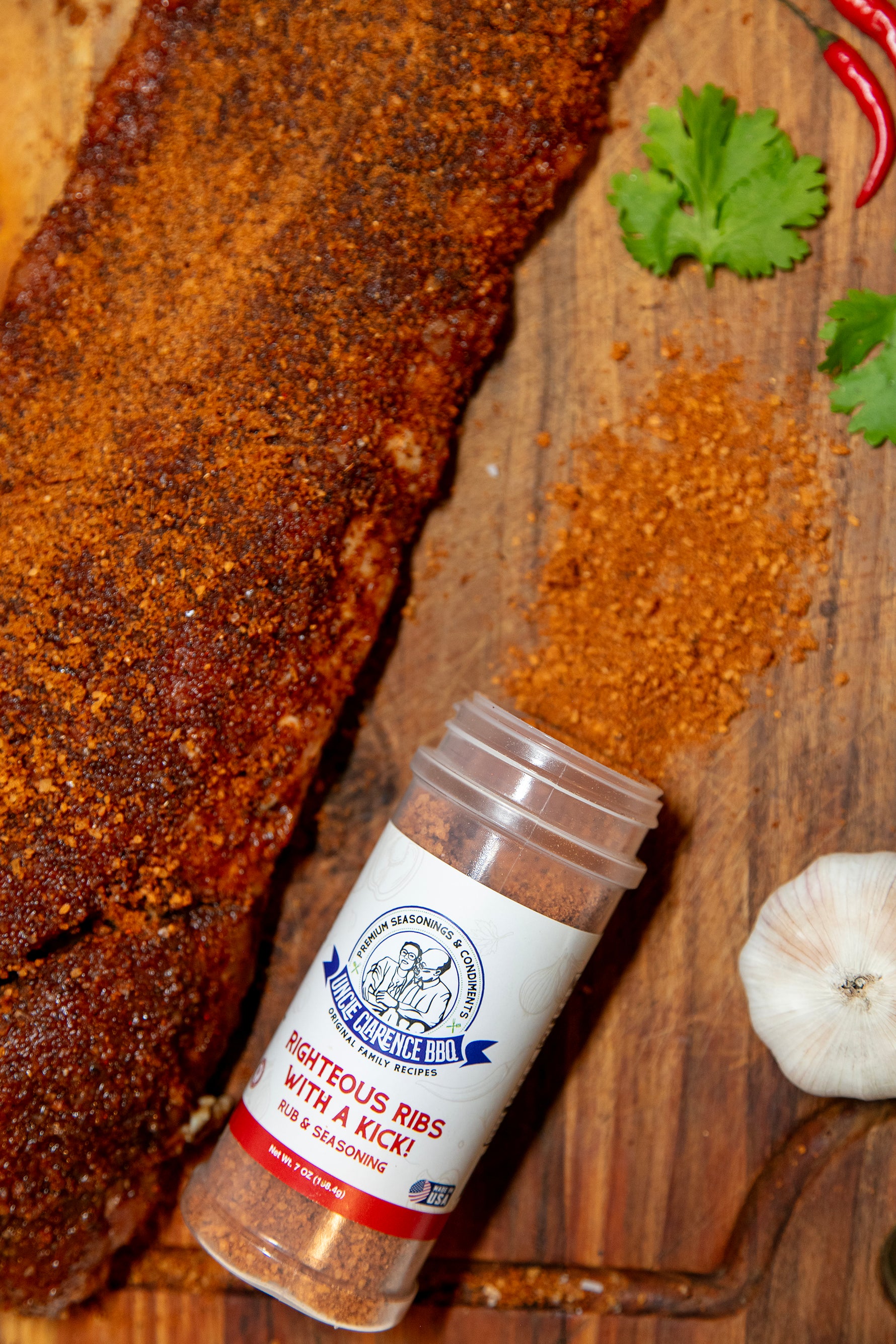 Product Blog
by

Shopify API
on Nov 30, 2023
Uncle Clarence BBQ Righteous Ribs With A Kick seasoning has gained a reputation among barbecue enthusiasts across the nation. This family recipe has been passed down for generations and is favored by both professional chefs and home cooks. But what sets this seasoning apart from others? This blog will explore the seasoning's unique history, secret ingredients, its versatility in cooking, health benefits, customer reviews, and tips to make the most out of this exceptional seasoning. History of Uncle Clarence BBQ Righteous Ribs With A Kick Seasoning The origins of Uncle Clarence BBQ Righteous Ribs Rub seasoning can be traced back to its creator, Clarence F. Mitchell. It was in his kitchen that he developed the original recipe Righteous Ribs Rub, striving to perfect the flavors of his BBQ pork spare ribs. The recipe was later inherited by his son, Clarence C. Mitchell, who created the spicer version of the rub called Righteous Ribs  with A kick began preparing BBQ pork spare ribs for others. The increasing popularity of the BBQ pork spare ribs led Clarence C. Mitchell to recognize an opportunity to make the seasoning, the source of the beloved flavor, available for sale. Today, Uncle Clarence BBQ Righteous Ribs Rub and Righteous Ribs With A Kick seasonings has become a household staple for many. The seasoning is still made using the same family recipe, albeit with a few modern tweaks and adjustments. Although the exact recipe remains a secret, Clarence C. Mitchell has revealed some of the ingredients, including smoked paprika, ginger, garlic, and organic brown sugar, which give the seasoning its signature sweet and savory flavor profile. One of the unique features of this seasoning is that it is not just a simple spice mix, but a blend of different herbs and spices with a rich history and cultural significance. For example, ginger is one of the most frequently used spices in Asian cuisine. smoked paprika is a staple in Spanish cuisine, while garlic is widely used in Italian cooking. These influences showcase the diversity and cultural flavors that have shaped Uncle Clarence BBQ Righteous Ribs With A Kick seasoning into what it is today. The Secret Ingredients As previously stated, the recipe for Uncle Clarence's BBQ Righteous Ribs With A Kick seasoning is a highly confidential matter. However, we do know that a unique combination of herbs and spices is meticulously chosen and acquired based on their superior quality and taste. Uncle Clarence BBQ Righteous Ribs With A Kick seasoning boasts a unique blend of flavors, with smoked paprika being the key ingredient. This spice, made by grinding dried red peppers, adds a distinct smoky and subtly sweet flavor to dishes, which is commonly featured in barbecue marinades and rubs. Garlic is another essential ingredient, contributing a pungent taste to the seasoning. Notably, garlic offers various health benefits, making this seasoning not only delicious but also nutritious. Our seasoning blend harmoniously combines organic brown sugar, black pepper, and sea salt to deliver a delectable balance of sweet, spicy, and salty flavors. Furthermore, it's thoughtfully crafted with low sodium levels in mind. Unlike other store-bought options, our seasoning stands out due to our unwavering commitment to using only high-quality and fresh ingredients. Our founder, Clarence C. Mitchell, takes immense pride in ensuring our seasoning consistently delivers a superior flavor profile to elevate your meals. Versatility of Uncle Clarence BBQ Righteous Ribs With A Kick Seasoning The widespread popularity of Uncle Clarence's BBQ Righteous Ribs With A Kick can be attributed to its versatility. This seasoning blend can be utilized in both traditional barbeque meats and non-traditional dishes such as seafood, roasted vegetables and soups. Several chefs employ the Uncle Clarence BBQ Righteous Ribs With A Kick seasoning to enhance the taste of their dishes. It is not just limited to barbecue meats, but can be used as a dry rub for chicken, pork, and beef or added to sauces and marinades for an extra kick of flavor. The seasoning can also be sprinkle Righteous Ribs With A Kick seasoning is pork spare ribs. The seasoning's smoky and spicy flavors perfectly complement the rich and tender meat, creating a mouth-watering dish. Other dishes like grilled BBQ chicken, BBQ pull pork, smoked brisket, and even grilled corn on a cob also benefit greatly from the addition of this seasoning. Health Benefits of Using Uncle Clarence BBQ Righteous Rib With A Kick Seasoning Beyond its delicious taste, Uncle Clarence BBQ Righteous Rib With A Kick seasoning provides numerous health benefits. Among the primary ingredients is garlic, which is renowned for its medicinal properties, including its anti-inflammatory and antioxidant characteristics. With such qualities, garlic plays an essential role in preventing various diseases. In addition, the utilization of fresh and high-grade ingredients in the seasoning ensures that it's devoid of synthetic preservatives or additives, resulting in a healthier option compared to other seasoning mixes found in stores. Such store-bought mixes often contain detrimental elements like MSG or excessive salt. Opting for Uncle Clarence BBQ Righteous Ribs seasonings enables you to savor the taste of barbecue without any concerns regarding health compromise. Customer Reviews and Testimonials A cursory online search would demonstrate the myriad of affirmative reviews and testimonials from contented patrons who have indulged in Uncle Clarence BBQ Righteous Ribs With A Kick. Many have lauded the seasoning for its unique and delectable taste, while others have commended its adaptability to enhance a variety of dishes. Moreover, numerous chefs have expressed their admiration for Uncle Clarence BBQ Righteous Ribs With A Kick seasoning, utilizing it in their own recipes and recommending it to their patrons. This widespread acclaim and recognition for the seasoning are evidence of its universal appeal and triumphant transformation from a family recipe to a commercial product. Tips and Tricks for Using Uncle Clarence BBQ Righteous Ribs With A Kick Seasoning After discussing the history, ingredients, versatility, and health benefits of Uncle Clarence's BBQ Righteous Ribs With A Kick seasoning, let's delve into some tips and tricks for incorporating it into your cooking. It's crucial to taste the seasoning and adjust it according to your preference. Although the original recipe is delectable, you may want to add more smokiness or spiciness to suit your taste buds. Hence, don't hesitate to experiment and find the ideal balance that works for you. Secondly, do not limit yourself to just using the seasoning on barbecue meats. As mentioned earlier, it can be used in a variety of dishes, so don't be afraid to get creative and add it to your favorite recipes. It's also a great way to add flavor to healthier meal options like seafood, grilled vegetables or tofu. Thirdly, it's essential to massage the seasoning into the meat, ensuring it's thoroughly coated. Allow the meat to marinate for a minimum of one to two hours, preferably overnight, to achieve maximum flavor. Lastly, if you're unable to get your hands on Uncle Clarence BBQ Righteous Ribs With A Kick seasoning, you can try recreating it at home. While the exact recipe may be a secret, you can experiment with different herbs and spices to create a similar flavor profile. Remember, the key is to use high-quality and fresh ingredients for the best results. Conclusion To summarize, Uncle Clarence BBQ Righteous Ribs With A Kick seasoning is not merely a spice mix, but a treasured family recipe perfected over generations. With its distinctive blend of herbs and spices, adaptability, health advantages, and satisfied customers, the seasoning is incredibly appealing. Regardless of your culinary sts, Uncle Clarence BBQ Righteous Ribs With A Kick seasoning is an essential ingredient to enhance your dishes and infuse them with love.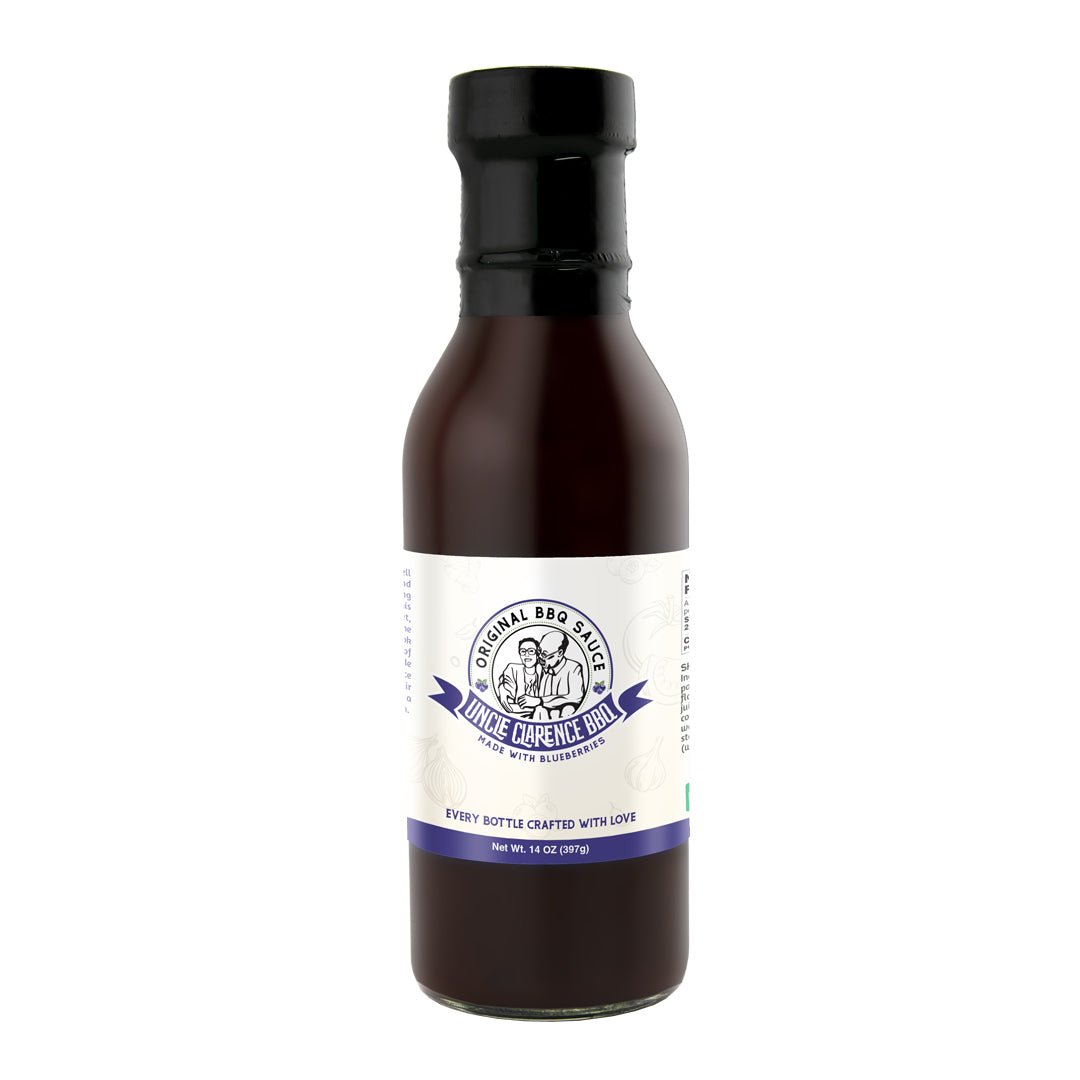 Product Blog
by

Clarence Mitchell
on Jul 28, 2023
When it comes to barbecue, everyone has their own preferences. Some like it tangy, others prefer it sweet, and then there are those who enjoy a little bit of both. If you're looking to take your BBQ game to the next level, look no further than award-winning blueberry BBQ sauce. This unique and flavorful sauce is sure to impress your taste buds and leave your guests wanting more. What makes blueberry BBQ sauce so special? Blueberry BBQ sauce is a delightful combination of sweet and savory flavors. The natural sweetness of the blueberries pairs perfectly with the smoky and tangy elements of traditional BBQ sauce. This unique blend creates a mouthwatering taste that is both familiar and unexpected. Whether you're grilling chicken, ribs, or even vegetables, blueberry BBQ sauce adds a burst of flavor that will elevate your dish to new heights. Why should you try blueberry BBQ sauce? There are several reasons why award-winning blueberry BBQ sauce should be at the top of your must-try list. Firstly, it has been recognized for its exceptional taste and quality. Ranked top 10 in specialty sauce from the American Royal BBQ competition in 2023 is no easy feat, and this sauce has proven time and time again that it is a cut above the rest. Secondly, the combination of blueberries and BBQ sauce is a match made in culinary heaven. The sweetness of the blueberries balances out the richness of the BBQ sauce, creating a harmonious flavor profile that is simply irresistible. How can you incorporate blueberry BBQ sauce into your meals? The versatility of blueberry BBQ sauce is one of its greatest strengths. It can be used as a marinade, a glaze, or a dipping sauce. For a simple yet delicious meal, marinate your choice of protein in blueberry BBQ sauce for a few hours before grilling. The flavors will infuse into the meat, resulting in a juicy and flavorful dish. If you prefer a glazed finish, brush the sauce onto your meat during the last few minutes of grilling. The heat will caramelize the sugars in the sauce, creating a sticky and delicious coating. And if you're a fan of dipping sauces, blueberry BBQ sauce is the perfect accompaniment to chicken tenders, sweet potato fries, or even onion rings. Why choose "Original BBQ Sauce"? Now that you're familiar with the wonders of blueberry BBQ sauce, it's time to try it for yourself. Uncle Clarence's "Original BBQ Sauce" is the perfect choice to experience the magic of blueberry BBQ sauce. Made with only the finest ingredients and crafted with care, this sauce is a testament to Uncle Clarence's dedication to quality. With its rich and complex flavors, "Original BBQ Sauce" will take your BBQ dishes to a whole new level. Don't miss out on this culinary delight! Get your "Original BBQ Sauce" today! Ready to elevate your BBQ game? Purchase Uncle Clarence's "Original BBQ Sauce" now and experience the incredible flavors of blueberry BBQ sauce. Don't settle for ordinary when you can have extraordinary. Visit Uncle Clarence BBQ to order your bottle today and take your taste buds on a journey they won't soon forget!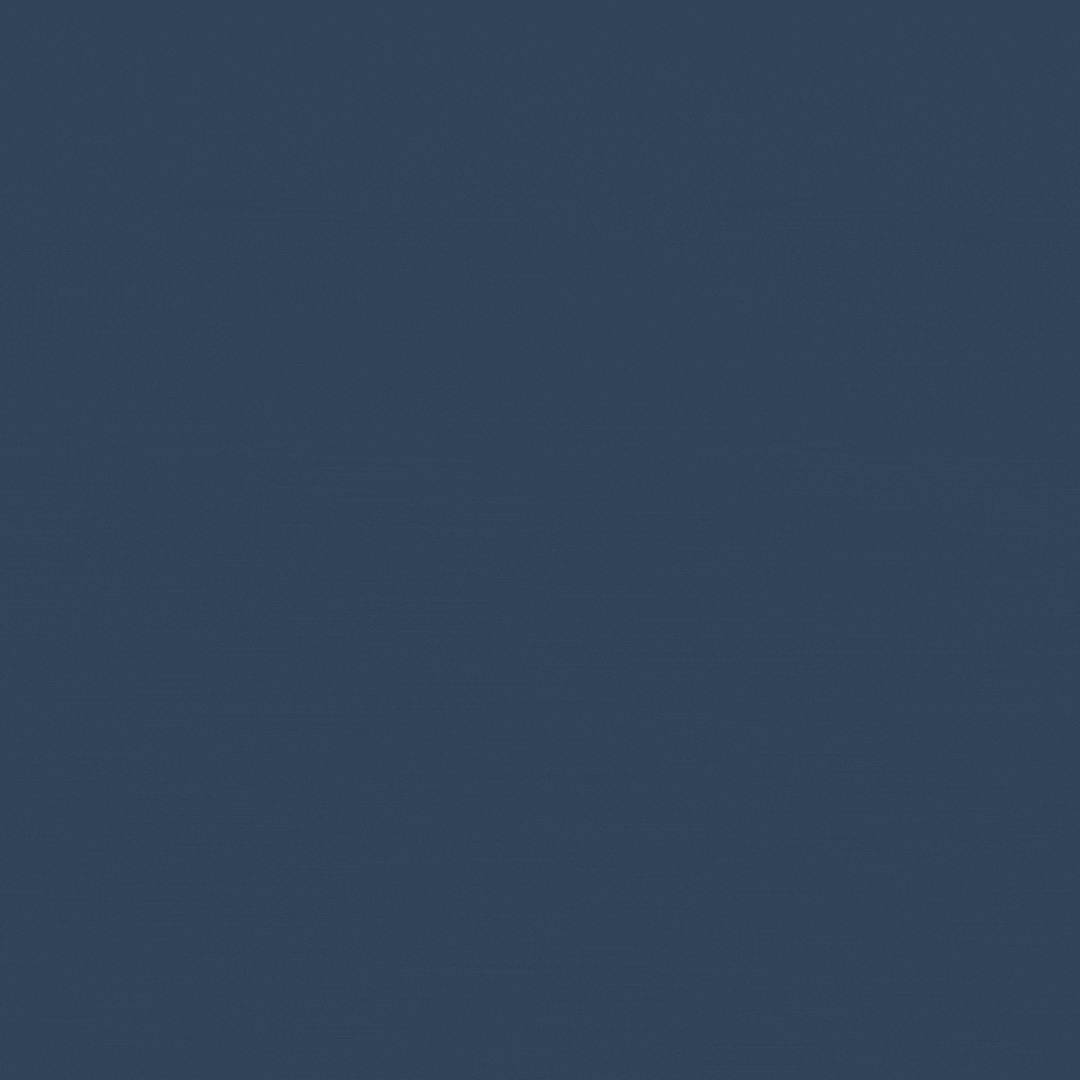 Product Blog
by

Clarence Mitchell
on May 23, 2023
 Uncle Clarence BBQ is proud to announce that its Original Sauce made with blueberries was recently ranked the 10th best specialty sauce in the USA by American Royal Association, producers of the World Series of Barbecue. The society ranked 259 sauces, and Uncle Clarence BBQ's product stood out with its unique and tantalizing flavors.Uncle Clarence BBQ is a small African American owned business that has been developing a delicious BBQ sauce and other condiments using all-natural ingredients to satisfy the discerning tastes of its customers. Uncle Clarence BBQ has been growing its reputation for natural and authentic flavors in recent years, and the company is proud to share the source behind its success – a family recipe from its founder's father."We take pride in sticking to our roots and producing products that have been passed down through generations," states Clarence C. Mitchell, the founder of Uncle Clarence BBQ. "It's exciting to know that we can honor our family's traditions and, at the same time, provide delicious products that our customers love."In addition to the blueberry sauce, "Uncle Clarence BBQ's Righteous Ribs Rub with a Kick" was also ranked highly. The rub was named the 20th best among all hot rubs, out of 74 ranked by the society."In a world of artificial flavors and mass-produced products, Uncle Clarence BBQ stands out for its commitment to traditional and natural flavors," adds Mitchell. "Each product is made to perfection in small batches, using the freshest ingredients and maintaining the highest quality standards."With a commitment to traditional and natural flavors, Uncle Clarence BBQ invites food lovers to join them in savoring the rich flavors of their all-natural products while supporting locally owned small businesses.Uncle Clarence Products will showcase their award-winning BBQ sauces and rubs at the SFA Summer Fancy Food Show on June 25-27, 2023, at the Javits Center in New York City. Be sure to visit their booth to experience the rich and authentic flavors that have made Uncle Clarence BBQ a standout among locally owned small businesses.
Choosing a selection results in a full page refresh.
Opens in a new window.